Find out how much post production of films & videos costs
Looking to begin your film's post production but are unclear about the process & how much post production services can cost?
In this blog we have broken down the post production workflow into its steps which remain the same for a feature film, short film, TV ad or a music video.
We have also discussed costs of each service & have compared our cost with other video post production studios in Mumbai & Hyderabad.
Here is a simple chart to help you get an idea of how much post production can cost as a package . All prices are in rupees and are approximations.
| | | | |
| --- | --- | --- | --- |
| | Mumbai Studio | Swastika Films | |
| Music Videos | ₹ 50K -1.5L | ₹ 10K – 30K | |
| Feature Films | ₹ 3L-8L | ₹ 50k – 2L | |
| TV Ad | ₹ 1L – 2L | ₹ 10K – 30k | |
| Documentary | ₹ 60K – 2L | ₹ 15K – 40k | |
If you are thinking of beginning editing, color grading & vfx works for your film or video, we would be happy to give you a quote for free.
Click to chat with us on WhatsApp
Chart for typical post production workflow for film & video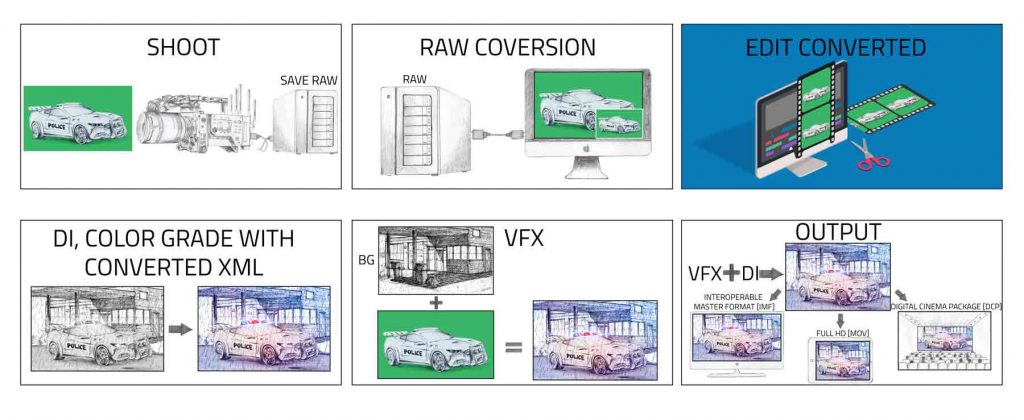 ---
Click to explore post production services by Swastika Films
---
Cost break down for post production of films in India
In this table we have compared the costs for different steps involved in the post production workflow as described in the info graphic above.
We have compared how much it costs if you get it done from any studio in Mumbai, get it done by Swastika Films and if you hire a freelancer to do it.
Mumbai Studios
Swastika Films
Freelancers
Transcoding cost
₹ 20000/1TB
Fast batch transcodingdirectly from drives toavoid piracy.
Double data integrity checks are performed to see whether the data is securely transcoded or not.

Converts 100gb in 1-2 hour.
₹7,000/1TB                
Fast batch transcoding directly from drives to avoid piracy.
Double data integrity checks are performed to see whether the data is securely transcoded or not.                       

Converts 100gb in 1-2 hour.
₹4,000-7,000/1TB
Copies footage into systems due to low end configuration.
Piracy issues & no data integrity check possible. Slow unreliable process.
Converts 100 gb in 15 hours.
Editing cost
₹ 2500 per hour
Premiere pro 4K editing with editor on SSD drive based system for glitch free edit experience. Sound works only on edit software from the editor
₹ 1200 per hour
Premiere pro & FCP X based 4K editing with editor on SSD drive based system for glitch free edit experience.
₹ 500 per hour                           
Premiere pro or FCP 7 based editing. 4K Edit not possible due to lower end systems. Slow rendering & exporting. Big exports not possible. Horrible experience
Color Grading cost
₹ 4500-15,000 per hour
Da Vinci Resolve or baselight based grading in calibrated environment, TV logic monitors & 2K DLP Projectors. Experienced Colorists. DCP playback possible.
₹ 1,200-2000 per hour
Da Vinci Resolve based grading in calibrated environment, TV logic monitors & 2k DLP Projectors. Experienced Colorists. DCP playback possible.
₹ 500 per hour
Da Vinci Resolve grading on laptop screens. No calibration or speed. No DCP. No color output authenticity.
DCP cost
₹ 60,000 per 2 hours
Quality DCP encrypted with kdm. Playback possible.
Time taken 6 hrs.
₹ 10,000-15,000 per two hours                          
Quality encrypted with kdm or unencrypted DCP making. Playback possible.
Time taken 6 hrs – 12 hours depending on file size.
₹ 25,000 per two hours Uncertified, only unencrypted. No DCP playback.
Time taken 2 days