DI STUDIO & COLOR GRADING SERVICES IN DELHI NCR
Make your film come alive with cinematic colors
WHY CHOOSE US

Up-to 8k Resolution Realtime Monitoring

28 TB Raid Storage Backup System
Digital intermediate (Color Grading) makes videos look awesome. We at Swastika films, have the only professionally calibrated color grading setup in Delhi & NCR for our specialist online color correction services. Our systems are robust enough to deal with 4k footage like water and enable color grading for even 8k in proxy. Watch your footage come alive on our calibrated TV Logic Full HD monitors or check your film's cinema out on our 2k projector system in 5.1 audio preview.
DI IN POST PRODUCTION PROCESS
Color Grading enables you to get more depth in your image online and you can make your footage look vibrant or somber depending upon the mood of the story you wish your cinema to create.
To understand the film post production process click on the buttons to explore steps 1 to 6. We suggest you view the process in sequence even though you can jump to any step you would like to explore.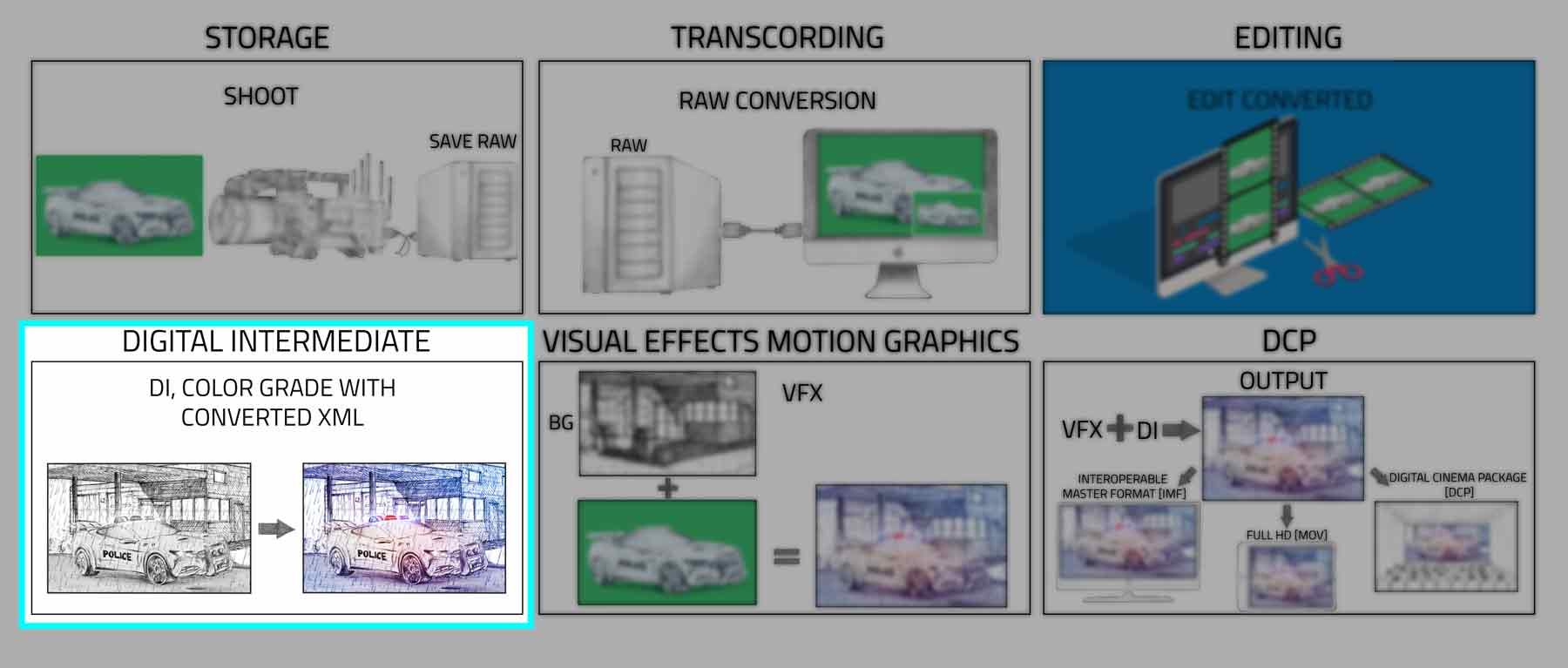 Digital intermediate: Raw footage is color-graded to enhance depth and image quality and to set the story mood.
DI
Raw film is color graded to enhance depth and image quality and to set the story mood.

COLOR GRADING STUDIO SERVICES SHOWCASE
COLOR GRADING INSIGHTS VIDEO
SOME FREQUENTLY ASKED QUESTIONS REGARDING COLOR GRADING
1. What is color grading and why is it important?
A. Color grading is a fundamental aspect of visual storytelling and aesthetics. It enables creators to control the look and feel of their work, correct technical issues, and engage the viewer's emotions and attention.
2. How does color grading differ from color correction?
A. Color correction is the process of adjusting and balancing the colors and tones in a video or image to ensure they are accurate, natural, and consistent.
Color grading, on the other hand, is the creative process of enhancing or altering the colors and overall visual style of a video or image to achieve a specific artistic or storytelling goal.
3. What software is commonly used for color grading?
A. Several professional software applications are commonly used for color grading.
DaVinci Resolve, Baselight, Adobe After Effects, Adobe Premiere Pro, Final Cut Pro X, Autodesk Lustre.
4. Can color grading fix poorly shot footage?
A. Colour grading can improve the visual quality of poorly shot footage to some extent, but it has limitations.
What Colour Grading Can Do: Exposure Correction, White Balance Correction, Colour Enhancement, Tone Adjustment, Noise Reduction.
What Colour Grading Cannot Do: Miracle Fixes, Detail Recovery, Focus Correction, Motion Artifacts, Composition and Framing.
5. How do you achieve a specific "look" through color grading?
A. Achieving a specific "look" through color grading involves a combination of technical adjustments and creative decisions. Color wheels, curves, and creative adjustments are powerful tools in the realm of color grading.
6. What is the difference between grading raw and compressed footage?
A. Grading raw footage provides greater flexibility, dynamic range, and quality for color correction and grading compared to grading compressed footage.
7. How do you ensure consistency across shots in a project?
A. These are techniques to help you maintain visual continuity and consistency in your color grading. If possible, include a color chart or gray card in some of your shots. Perform shot-by-shot grading to make specific adjustments to each shot.
8. How does color grading affect different genres, like action movies versus dramas?
A. Color grading in action movies often leans towards dynamic, high-energy visuals that complement the fast-paced nature of the genre.
Color grading in dramas is often more subdued and nuanced, focusing on conveying emotions and character development.
9. What is the difference between LUTs and manual color grading?
A. LUTs offer a quick and efficient way to apply a predefined look or style to your footage. Manual color grading provides complete control and customization, allowing for a more nuanced and tailored approach to color and tone adjustments.
10. How do you handle skin tones during color grading?
A. This can be a reference shot taken during the shoot under controlled lighting conditions, a color chart, or a known reference image.
INDEPENDENT FILMS COLOR GRADED BY SWASTIKA FILMS
FOLLOWED BY POSTERS OF FILMS GRADED BELOW