4K corporate film making process & costing explained.
In the dynamic business environment which exists today, it is very important for a corporate & it's professionals to communicate their virtues & values effectively & regularly via corporate film in order to stay connected to its B2B as well as B2C peers. We have tried to explain the Corporate film making process & costing in an easy way for clients who are looking for such service in this blog.
We at Swastika Films, New Delhi provide professional corporate video production service for corporates & industry workers alike. Read this blog in full to understand Corporate film making process & related costings.
Please check out the flow chart explaining the corporate video making & film making work process. This is the universally suggested workflow to make a professional corporate video.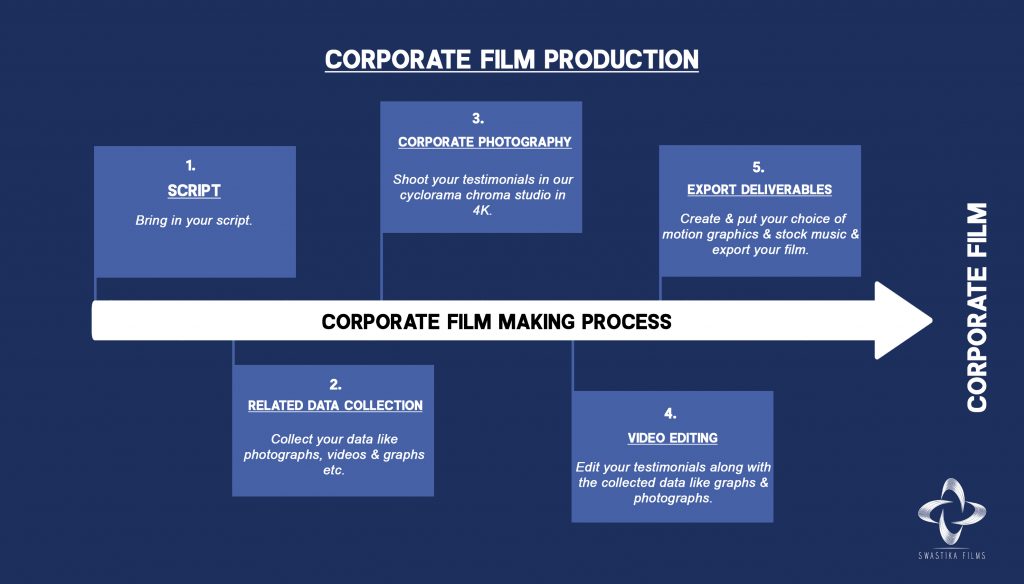 Cyclorama chroma studio for video shoots.

Teleprompter for easy testimonial speaking.

4K corporate video recording & editing.
Related costings on per hour basis to facilitate budget calculation for clients interested in corporate filmmaking service.
Item Description.
Per hour price.
Cyclorama Studio with available lights
(Make up & dressing room included)
1,500/hour
4K DSLR camera kit with canon prime lenses & Cinematographer.
2,000/hour
Video editing & compositing.
1,250/hour
18% GST applicable on the above prices.
Click on this link for corporate film production booking related enquiries.